if you haven't heard of her already, please let me introduce you to Niki de Saint Phalle, French sculpture, painter, and film maker. her family was moved to the United States after suffering financial difficulties during the Great Depression. in New York she attended a prestigious Convent School, but was expelled after painting fig leaves red on school statues. as a teenager she become a model and was featured on the cover of French Vogue. at 18 she married an American man with whom she had a daughter, Laura. becoming a mother and a housewife caused Niki to have a nervous breakdown, since she had fought so hard against the stereotypes that confined women to particular roles and behaviors. as part of her therapy she was encouraged to paint. her parents had never wanted her to paint (it was not for ladies). so she gave up acting and focused on becoming an artist. one year later she moved to Spain and visited Barcelona, where she discovered and became inspired by Gaudí's magical Park Güell. this is what her inspiration yielded: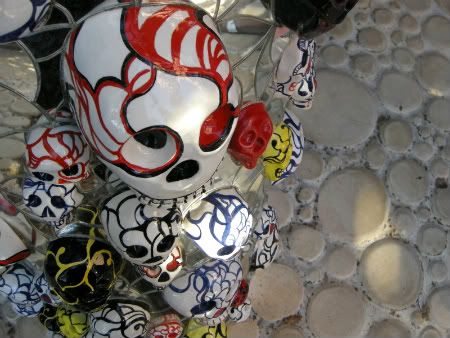 (

Life ... is never the way one imagines it. It surprises you, it amazes you, and it makes you laugh or cry when you don't expect it. // Niki de Saint PhalleCollapse

)




+++
Niki de Saint Phalle was a hugely inspirational woman, in both her work and her personal life. for more information about the artist or her garden, please visit
her website
.